Committees
Organising committee:
OLDŘICH FATKA (Charles University, Prague) fatka@natur.cuni.cz
PETR BUDIL (Czech Geological Survey, Prague) petr.budil@geology.cz
GIAN LUIGI PILOLLA (University of Cagliari, Italy) pillolag@unica.it
MICHAL MERGL (West Bohemian University, Plzeň) mmergl@kbi.zcu.cz
ŠTĚPÁN RAK (Museum of Bohemian Karst, Beroun) deiphon@seznam.cz
MARTIN VALENT (National Museum, Prague) martin_valent@nm.cz
RADKO ŠARIČ (Czech Geological Survey, Prague) radko.saric@geology.cz
TOMÁŠ LEHOTSKÝ (Palacký University Olomouc, Regional Museum Olomouc) tomas.lehotsky@upol.cz
Scientific committee:
P. AHLBERG (Lund University, Sweden) per.ahlberg@geol.lu.se
B.D.E. CHATTERTON (University of Alberta, Canada) Brian.Chatterton@ualberta.ca brianchatterton@yahoo.com
C. CRONIER (University Lille, France) catherine.cronier@univ-lille1.fr
R.A. FORTEY (Natural History Museum, London, Britain) R.Fortey@nhm.ac.uk
D. HOLLOWAY (Museum Victoria, Melbourne, Australia) dhollow@museum.vic.gov.au
R. LEROSEY-AUBRIL (Forschungsinstitut Senckenberg, Frankfurt a/M, Germany) leroseyaubril@gmail.com
E. NAIMARK (Russian Academy of Sciences, Moscow, Russia) naimark@paleo.ru
I. RABANO (Museo Geominero, Madrid, Spain) i.rabano@igme.es
J. VANNIER (Université Lyon 1, Lyon, France) Jean.Vannier@univ-lyon1.fr
A. MAAS (University of Ulm, Germany) andreas.maas@uni-ulm.de
ZHOU Z. Y. (Academia Sinica, Nanjing, PR China) zyizhou@jlonline.com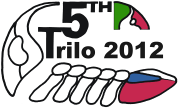 NEWS

NEW PHOTOS: Participant's photos
Participant's photos
NEW PHOTOS: Sessions and dinner
Photos from sessions and the conference dinner
NEW PHOTOS: Mid-conference trip
Photos from Mid-conference field trip
NEW PHOTOS: Pre-conference trip and Icebreaker party
Photos from Pre-conference field trip and the Icebreaker party
CIRCULARS & DOCUMENTS
WHEN & WHERE
26th – 29th June: Field trip
Lower Palaeozoic of the Barrandian area, Czech Rep.
1st – 4th July: Conference
Geoscience Building of the Faculty of Science of Charles University, Albertov 6, Praha 2, Prague, Czech Republic (
maps
)
5th – 9th July: Field trips
Sardinian Lower Palaeozoic, Italy and Late Palaeozoic in Moravia, Czech Republic