Registration and paper submitting
When you would like to register, please enter your name and your correct e-mail address into the "Register new member" form at http://www.trilo2012.org/reg/ (the middle part of the web page).
After submitting of these preliminary data, at the e-mail address you filled in the form, you should receive your unique password. This password enables (in combination with the e-mail you filled in) to login into your own account. Please save carefully your login and password! For an emergency case, the password reminder service is available at the bottom of the page.
The personal account (available via "Sign in to on-line registration & paper submitting" form at the top of the page) is subdivided into the two parts:
The first part contains your basic personal data, type of your attendance on the conference (professional, student) and the number of accompanying persons. Please fill carefully and check the content of all fields before submitting. When you will save this part, you cannot to change already saved data!


After filling, saving and closing of the first part of the form, you can continue with your registration process. You can chose from the list of events (excursions) which are at disposal. During this part of the registration (up to the May 15th), you have a possibility to upload your abstracts via on-line form and manage the form of your presentation (one oral and one poster presentation is allowed for one person as a first author). The layout of the abstract is available on the conference web pages. Please note that the abstracts will be subjected to scientific and formal evaluation. The organizing committee will decide about acceptability and form of presentation.
Please note that the definitive registration should be followed by the payment as soon as possible to ensure that especially your place at the excursion (preliminary booked during the registration) is guaranteed. The number of participants at all three field-trips is limited!
Please note that the both post-conference field-trips to the Sardinia and to the Moravia must be paid on separate bank accounts! Payment must arrive by May 15th, 2012 by international bank transfer. After this date the rate for the full meeting will increase by 50 EURO.
Cheques and credit card payments are not accepted!!!
Participants must cover all transfer costs.
Registration of new member (user)
You receive your password via e-mail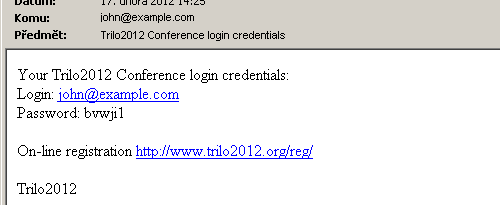 Next you can sign into your own member account

First provide your basic personal/contact data and select type of registration + eventually number of accompanying persons
Check your basic data and close first step of registration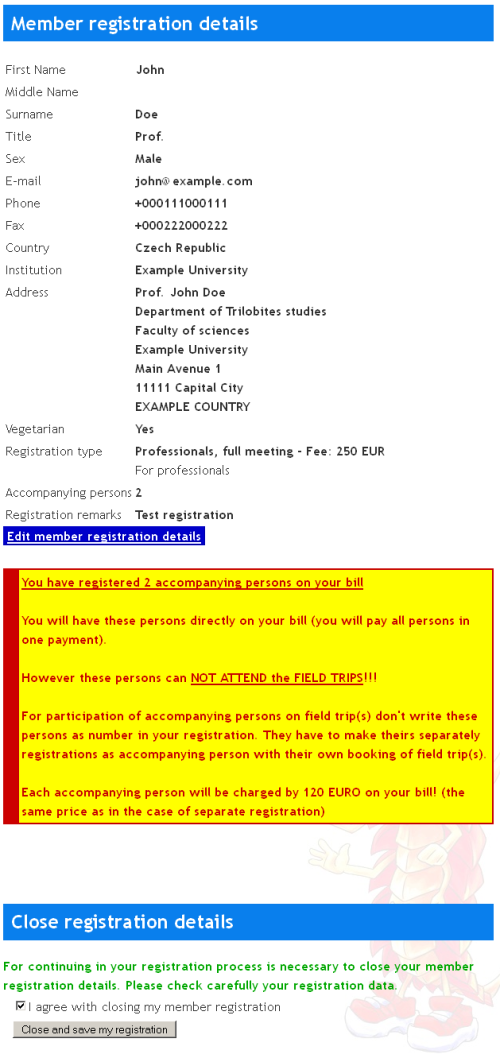 Next you can add your contribution(s) and register for field trips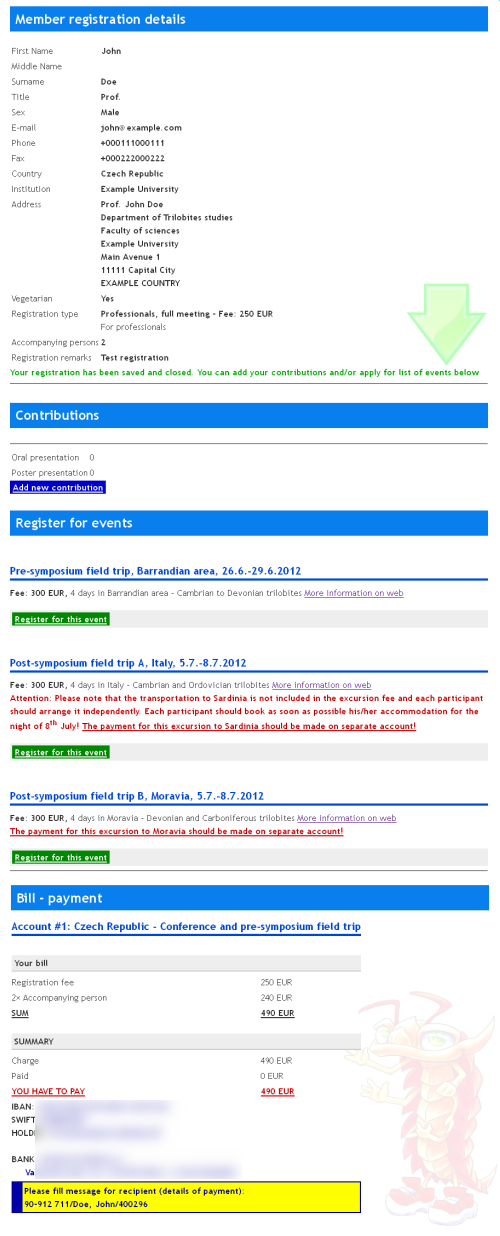 For each your contribution click on Add new contribution

Fill contribution details and save it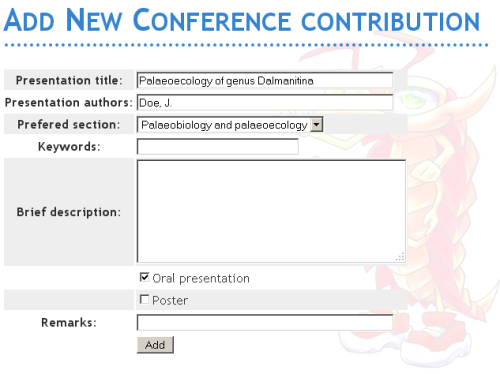 For upload abstract click on Edit, Upload abstract & manage
You can upload abstract or edit your contribution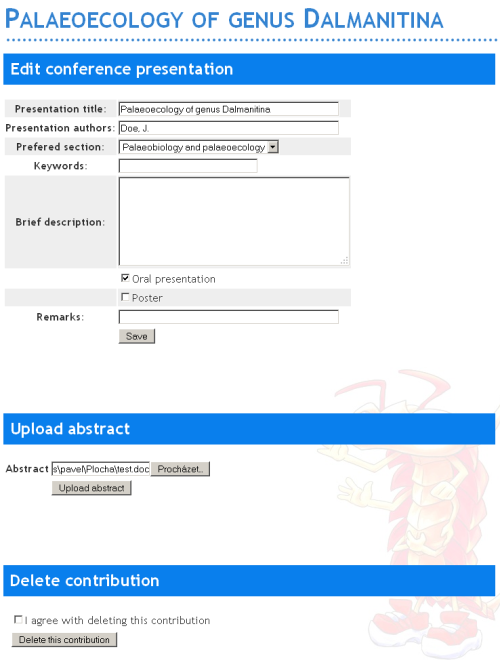 You can register for field trips too (click on register for event)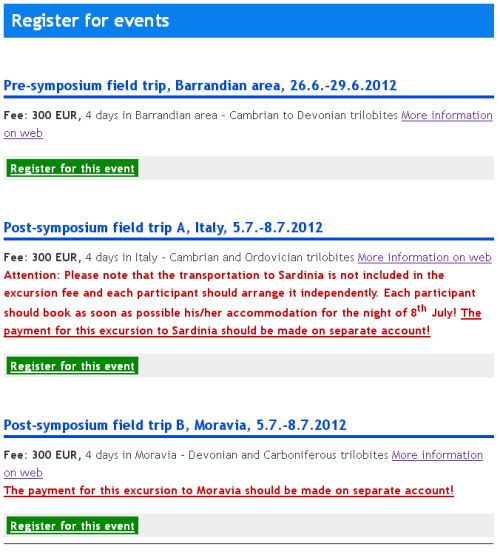 Your place will be automatically booked or you will wait in a queue for processing reservation or free place for you
Your bill is continuously updated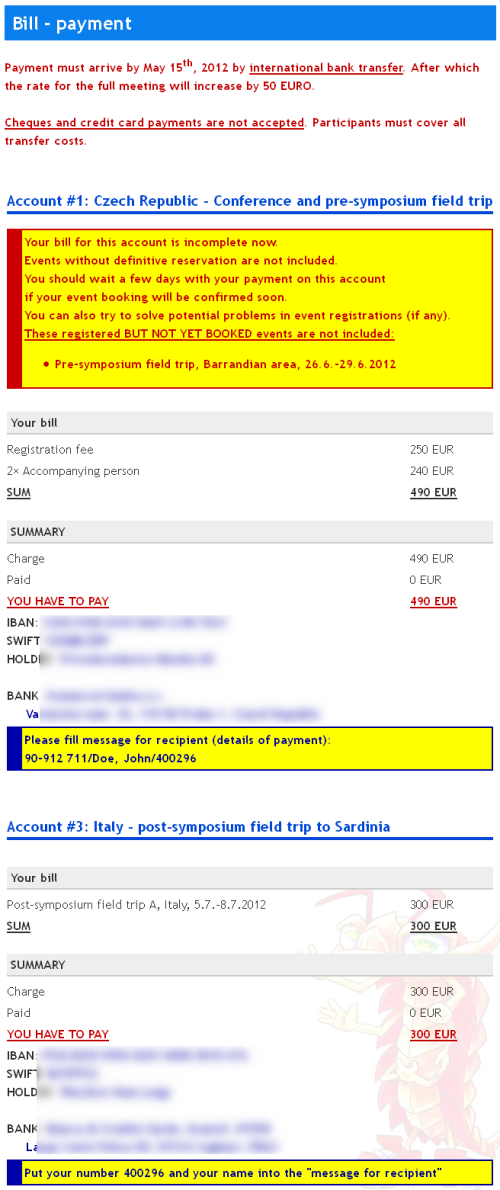 If you are still waiting in a queue for a field trip you can get booking confirmation for your place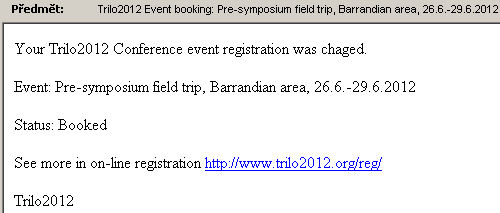 Your place for Barrandian area field trip is booked now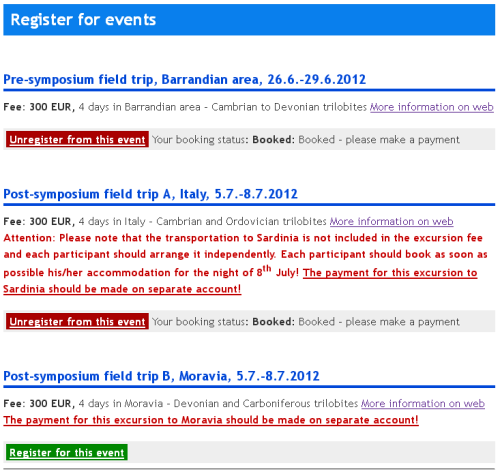 And this field trip is also on your bill now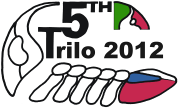 NEWS

NEW PHOTOS: Participant's photos
Participant's photos
NEW PHOTOS: Sessions and dinner
Photos from sessions and the conference dinner
NEW PHOTOS: Mid-conference trip
Photos from Mid-conference field trip
NEW PHOTOS: Pre-conference trip and Icebreaker party
Photos from Pre-conference field trip and the Icebreaker party
CIRCULARS & DOCUMENTS
WHEN & WHERE
26th – 29th June: Field trip
Lower Palaeozoic of the Barrandian area, Czech Rep.
1st – 4th July: Conference
Geoscience Building of the Faculty of Science of Charles University, Albertov 6, Praha 2, Prague, Czech Republic (
maps
)
5th – 9th July: Field trips
Sardinian Lower Palaeozoic, Italy and Late Palaeozoic in Moravia, Czech Republic