Post-conference field trip Late Palaeozoic in Moravia, eastern part of Czech Republic
The Post-conference field trip to the Late Palaeozoic in Moravia have been cancelled because of low interest of participants.
Co-leaders: Stepan Rak, Tomas Lehotsky, Olda Fatka, Petr Budil
Preliminary Programme
5th July – Abyss Macocha and the Punkva River Day: SPECTACULAR MACOCHA ABYSS (near Blansko in Moravia)
Morning: Visit of the famous Macocha Abyss (http://www.moravskykras.net/en/macocha-abyss.html). Boat-trip on the Punkva River, Macocha Abyss from the tourist lookout point. Discussion of geology of the area.
6th July - The Mokra Quarry near Brno Day: UPPER DEVONIAN AND LOWER CARBONIFEROUS FOSSILS
Morning: Visit of the large active Mokrá Quarry near Brno. Excursion and introduction into tectonics, stratigraphy as well as the paleontology. Main stops will be devoted to the:
Tectonics of the Mokrá Quarry, its stratigraphy and fossiliferous shales of the Březina Formation with common remains of Liobole, Archegonus (Archegonus), Semiproetus and rare Bollandia.
The Tournaisian – Viséan beds in situ.
Afternoon: The barbecue party in hotel (Sloup in Moravian Karst, see http://www.staraskola.cz/en/).
7th July - Stinava and Prostejov Day: STINAVA LOCALITY and PROSTEJOV MUSEUM)
Morning: The visit of the well-known locality Stínava. The stop will be focused mainly on the palaeoecology and taphonomy of the Stínava-Chabičov Formation with rich findings of deformed (anchi-metamorphosed) Lower to Middle Devonian trilobites, brachiopods, cephalopods and other diverse fauna.
Afternoon: Visit of the Prostějov Museum with nice exhibition of geology of the entire area (including famous locality Čelechovice na Hané). Comments to the geological and paleontological research in Moravian Lower Palaeozoic will be presented.
8th July - Return to the Prague
Accommodation
Three nights in Sloup (probably hotel Sloup in Moravian Karst, see http://www.staraskola.cz/en/ are included in the excursion fee)
Payment
Payment of fees must be made by International Money Transfer before April 30th, 2012.
The money transfer information (Account name, number, IBAN, SWIFT, etc.) will be available after February 15th, 2012.
Prize of the excursion: 300 Euro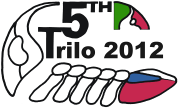 NEWS

NEW PHOTOS: Participant's photos
Participant's photos
NEW PHOTOS: Sessions and dinner
Photos from sessions and the conference dinner
NEW PHOTOS: Mid-conference trip
Photos from Mid-conference field trip
NEW PHOTOS: Pre-conference trip and Icebreaker party
Photos from Pre-conference field trip and the Icebreaker party
CIRCULARS & DOCUMENTS
WHEN & WHERE
26th – 29th June: Field trip
Lower Palaeozoic of the Barrandian area, Czech Rep.
1st – 4th July: Conference
Geoscience Building of the Faculty of Science of Charles University, Albertov 6, Praha 2, Prague, Czech Republic (
maps
)
5th – 9th July: Field trips
Sardinian Lower Palaeozoic, Italy and Late Palaeozoic in Moravia, Czech Republic