Post-conference field trip Cambrian and Ordovician trilobites, Sardinia, Italy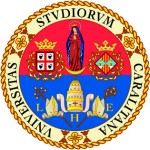 Photogallery concerning the post conference fieldtrip
Post-conference field trip. July 5th-8th: Cambrian and Ordovician trilobites of selected localities in Sulcis-Iglesiente (SW Sardinia, Italy).
Co-leaders: Gian Luigi Pillola, Francesco Leone and Andrea Mancosu
FEE: 300 Euro This fee includes all meals, three nights accommodation (sharing double rooms) and transportation during the excursion).
This field trip is restricted to a maximum of 30 participants.
Last departure from Cagliari Elmas Airport to Portoscuso in the late evening of 5th July; return to Cagliari in the late evening of 8th July.
Preliminary Programme
5th July - Arrival at Cagliari Elmas Airport
We will organize several transfers, from midday onwards, from the airport to the Dipartimento di Scienze della Terra, via Trentino 51, Cagliari, in order to concentrate all participants for the welcome party, which will be served in the garden of the Department at 8 PM.
For early arrivals we propose to leave your luggage in the Department and visit our Museums and/or the historical centre of Cagliari.
6th July - Rasetti Day: SERRA SCORIS-CASE SANT'ANTONIO (Gonnesa); CABITZA (Iglesias)
Morning: The Serra Scoris-Case Sant'Antonio section, displaying the succession of the Early Cambrian Matoppa and Punta Manna Formations, will be visited. Main stops will be focused on:
the trilobite communities found between the Arhcaeocyathan/calcimicrobes mounds (dominated by Dolerolenus courtessolei/Giordanella vincii and, locally, by metaredlichiids and Pagetiellids)
The Enantiaspis enantiopa beds
| | |
| --- | --- |
| Dolerolenus courtessolei | Giordanella vincii |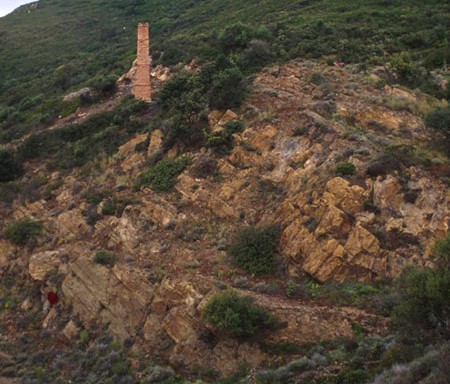 Serra Scoris Matoppa Formation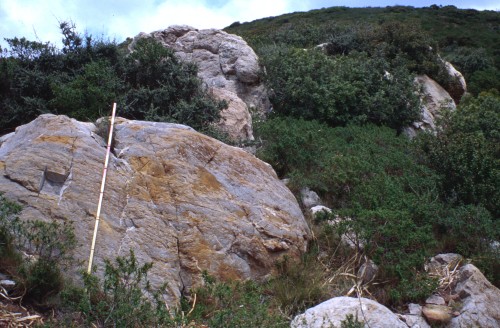 Archaeocyathan buildups
Afternoon: The Campo Pisano Fm. and Cabitza Fm. type locality (Latest Early Cambrian to Tremadocian), with special attention to the Paradoxides mediterraneus beds.
Paradoxides mediterraneus
7th July - Meneghini - Bornemann Day: GUTTURU SARTU and CANALGRANDE (Buggerru)
The visit to the type locality of Dolerolenus zoppii at Gutturu Sartu is planned, then a long walk across the ancient mining pathway to reach the fabulous Canalgrande cliffs. The stop will be devoted to the palaeoecolgy/taphonomy of the best-preserved remains of Dolerolenus zoppii and Metadoxides armatus found in Sardinia (Early Cambrian).
| | |
| --- | --- |
| Dolerolenus zoppii | Metadoxides armatus |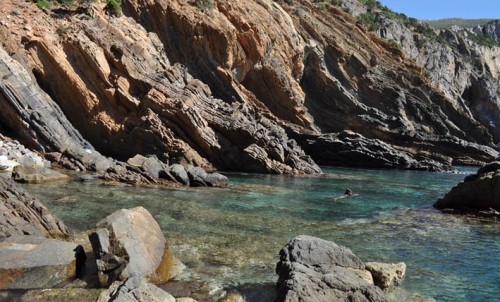 Canalgrande cliffs
8th July - Taricco - Hammann Day - RIO IS ARRUS and PUNTA PEDRONA sections (Fluminimaggiore)
Morning: The exceptional Upper Ordovician Tariccoia arrusensis beds at the Riu Is Arrus will be visited and taphonomically evaluated.
Tariccoia beds
Afternoon: The Upper Ordovician highly fossiliferous beds at Punta Pedrona section. These beds are very rich in trilobite, brachiopods, bryozoans etc.
Transfer to Cagliari (arrival is planned for 8.00 PM).
More pictures in photogallery
Accommodation
Three nights in Portoscuso (probably ***Hotel Panorama); single room will be charged of additional 20 Euro per night)
Participants are asked to book their own accommodation in Cagliari for the night of 8th July. Please book your rooms in Cagliari as soon as possible.
A selection of hotels and hostels is suggested below.
Payment
Payment of fees must be made by International Money Transfer before April 30th, 2012 (late payments after this date increase by 50 Euro).
The money transfer information (Account name, number, IBAN, SWIFT, etc.) will be available after February 15th, 2012.
FLYGHTS INFORMATIONS
At the moment there is only a seasonal direct flight from Prague to Cagliari. (http://www.smartwings.com/home.php?lang=en); however, several aircrafts per day connect Prague to Rome and to Milan, then many others from these hubs reaches Cagliari.
For some connections (longer but cheaper) is possible to come back from the Prague International Airport to the main European airports served by low cost companies, then choosing a direct flight to Cagliari.
In July some additional seasonal charter flights are available.
Flying Companies to reach Cagliari
HOTELS IN CAGLIARI
The following suggestions of B&B represents a selection of accommodations close to Piazza Yenne and Largo Carlo Felice (the centre of Cagliari).
Le Torri, B&B Il Panoramico, Castello B&B, The Place Cagliari, Le Suite Sul Corso, Cagliaricentro, Le Tre Stelle, Marina di Castello, Sa Domu Cheta, Bellezza Suite Affittacamere, Sardinia Domus
All the Hotels and B&B listed above are close the airport shuttle terminal, bus and railway station (the majority of them are few minutes walk).
You are kindly invited to book as soon as possible your accommodation for the night of 8th July!
http://www.booking.com/
http://www.federal-hotel.it/en/hotel-citta-cagliari.htm
Contact
For further information concerning the Post-Conference Field Trip in Sardinia contact: pillolag (at) unica (dot) it, mobile: 0039 3398097061
Please, bring a trilobite from Your Country!
---
Download in PDF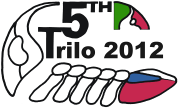 NEWS

NEW PHOTOS: Participant's photos
Participant's photos
NEW PHOTOS: Sessions and dinner
Photos from sessions and the conference dinner
NEW PHOTOS: Mid-conference trip
Photos from Mid-conference field trip
NEW PHOTOS: Pre-conference trip and Icebreaker party
Photos from Pre-conference field trip and the Icebreaker party
CIRCULARS & DOCUMENTS
WHEN & WHERE
26th – 29th June: Field trip
Lower Palaeozoic of the Barrandian area, Czech Rep.
1st – 4th July: Conference
Geoscience Building of the Faculty of Science of Charles University, Albertov 6, Praha 2, Prague, Czech Republic (
maps
)
5th – 9th July: Field trips
Sardinian Lower Palaeozoic, Italy and Late Palaeozoic in Moravia, Czech Republic