Pre-conference field trip Cambrian to Devonian of the Barrandian area
Pre-conference field trip. June 26th-29th: Cambrian to Devonian trilobites of selected localities of the Barrandian area (Central Bohemia, Czech Republic)
Co-leaders: Oldrich Fatka, Petr Budil, Jiri Kriz, Michal Mergl, Petr Kraft
FEE: 300 Euro - this fee includes all meals and transportation during the excursion and the excursion guide. Accommodation is NOT INCLUDED in excursion fee and have to be arranged separately by each participant!
This field trip is restricted to a maximum of 40 participants.
All four excursion will start at Charles University, Praha 2, Albertov 6 and we bring participants to this place after each excursion.
Preliminary Programme
26th June - Barrande´s Day: Cambrian of the Pribram-Jince Basin
Section in the Litavka river valley, displaying the succession which starts in the Early Cambrian Paseky Member of the Holsiny-Horice Formation, continues in conglomerates of the Kloucek-Cenkov Formation. After lunch good collecting of fossils at several stops of the Jince Formation will be possible.
Main stops will be focused on:
Non-trilobite Kodymirus Association of the Paseky Member (Medaluv mlyn locality)

Lithology of typical early Cambrian sediments of the Pribram-Jince Basin (Old quarry in Cenkov village in the Kloucek-Cenkov Formation)

Richly fossiliferous Jince Formation at the stratotype section of the formation at Jince – Vinice and other two outcrops (Hejduv dvur near Rejkovice and Slope Ostry vrch Hill), all with common findings of paradoxidid, conocoryphid and other trilobites associated with echinoderms, hyoliths and other skeletal fauna.

Jince - Vinice

Rejkovice - Hejduv Dvur

Slope Ostry vrch Hill

Finding of Conocoryphe
27th June - Snajdr´s Day: Cambrian of the Skryje-Tyrovice Basin
Section in the Berounka river valley, displaying the succession which starts in the Neoproterozoic of the Tepla-Barrandian area (Blovice Formation), continues to the only continuous section in the Cambrian Buchava Formation and brings participants to several trilobite-bearing outcrops at diverse levels of the Cambrian section.
Main stops will be focused on:
Typical lithology of Neoproterozoic sequence (Nezabudicke skaly)

Lithological section in the Buchava Formation disclosing outcrops in Slapnice and Skryje members (Neoproterozoic–Cambrian unconformity NE of Tyrovice)
Richly fossiliferous outcrop in levels from which Barrande (1846, 1852) described early ontogenetic stages of Sao hirsuta and several other trilobites and agnostids (small quarry near Tyrovice)
Lunch at Skryje and visit of the Barrande´s monument at Skryje
Fossiliferous shales and greywackes of the Buchava Formation with common findings of large paradoxidid trilobites and other skeletal fauna (Luh near Skryje)

Barbeque in a quarry
28th June - Hawle and Corda´s Day: Ordovician of the Prague Basin
Outcrops in Middle Ordovician Dobrotiva Formation will be followed by visit of Lower Ordovician Trenice and Milina formations. After lunch, the excursion continues to Upper Ordovician Zahorany Formation. The excursion will visit also the historical iron-ore mine near Chrustenice.
Main stops will be focused on:
Fossiliferous dark shales and siltstones of Middle Ordovician Dobrotiva Formation typified by the cyclopygid biofacies (former quarry at Ejpovice)

Middle Ordovician siliceous pebbles of the Sarka Formation with highly divers, more or less 3D preserved skeletal fauna and Upper Ordovician quartzitic sandstones of the Liben Formation with crushed trilobite remains (Mytsky vrch Hill)
Typical lithology of Tremadocian Trenice and Milina formations dominated by brachiopods associated with generally rare, comparatively shallow-water trilobites and very rare agnostids (Olesna)
After lunch, visit of Upper Ordovician Zahorany Formation containing rich trilobites preserved in weathered calcareous siltstones with common carbonate nodules (Lodenice)

Visit of historical iron-ore mine in Upper Ordovician oolites (Chrustenice)
29th June - Chlupac´s Day: Silurian and Devonian of the Prague Basin
Outcrops in late Silurian Kopanina Formation will be followed by visit of both natural and artificial outcrops in the Lower Devonian Praha Formation developed in its typical shallower-water facies in the classical Koneprusy area. After lunch, collecting in richly fossiliferous Lower Devonian limestones will be followed by the visit of the first GSSP of the Silurian/Devonian boundary and the auxiliary stratotype of the Lower Devonian Lochkovian/Pragian boundary.
Main stops will be focused on:
Extensive outcrops of Silurian Motol and Kopanina formations (Wenlock to Ludlow) containing rich trilobite associations with diverse proetids, odontopleurids, cheirurids, phacopids, scutelluids, etc. at active quarry Kosov

Lunch will be organised directly on the Lower Devonian (Pragian) reef at the top Zlaty Kun Hill near Koneprusy disclosing a series of famous outcrops in the supposed reef core caped by shallow-water successions of the Lower-Middle Devonian age (nice looking point from the top of the hill)

Richly fossiliferous successions of the reef slope in Praha Formation with dominant robust proetids, scutelluids, cheirurids, phacopids and harpetids (Plesivec quarry near Homolak)

The first global stratotype of the Silurian/Devonian boundary (Klonk at Suchomasty)

Lochkovian/Pragian boundary (Lower Devonian, Lochkov and Praha formations) in deeper-water facies development, containing rich scutelluids, dalmanitids and phacopids (Cerna rokle near Kosor)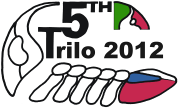 NEWS

NEW PHOTOS: Participant's photos
Participant's photos
NEW PHOTOS: Sessions and dinner
Photos from sessions and the conference dinner
NEW PHOTOS: Mid-conference trip
Photos from Mid-conference field trip
NEW PHOTOS: Pre-conference trip and Icebreaker party
Photos from Pre-conference field trip and the Icebreaker party
CIRCULARS & DOCUMENTS
WHEN & WHERE
26th – 29th June: Field trip
Lower Palaeozoic of the Barrandian area, Czech Rep.
1st – 4th July: Conference
Geoscience Building of the Faculty of Science of Charles University, Albertov 6, Praha 2, Prague, Czech Republic (
maps
)
5th – 9th July: Field trips
Sardinian Lower Palaeozoic, Italy and Late Palaeozoic in Moravia, Czech Republic